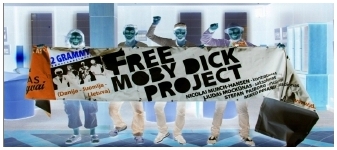 STEFAN PASBORG: drums / perc. 
MIKKO INNANEN: baritone-sax 
LIUDAS MOCKUNAS: tenor-sax 
NICOLAI MUNCH-HANSEN: bass
A passion towards playing some of the iconic rock-riffs by bands like Black Sabbath, Led Zeppelin and The White Stripes, but in my own way and as platforms for improvisations within a free approach, inspired me to create this project.
I invited three of my favorite European musicians to join the fun: Mikko Innanen (Fin), Liudas Mockunas (Lit) and Nicolai Munch-Hansen (Den) with whom I have so often played during the past 10-15 years in several other constellations (Delirium, Triot, Toxikum, Odessa 5, Megaphone etc.) – The result is this band..
VIDEO: