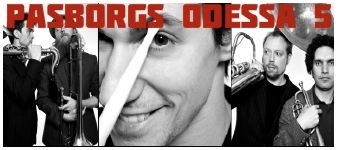 STEFAN PASBORG: drums 
ANDERS BANKE: sax
MADS HYHNE: trombone
NICOLAI MUNCH-HANSEN: bass
MOCKUNAS or LØVDAL: sax 
 
"Stefan Pasborg is yet another Nordic artist gradually raising his profile across international borders as he leads his new outfit around Europe…. Most pieces exploited the players' individual virtuosity, but in principle the writing for the group emphasized collectivity rather than individuality, always knitted tightly by Pasborg's strong drumming…. Odessa is certainly a band to be blown away by'' – All About Jazz, USA.
Take a handful of original compositions and add a bit of Charles Mingus and Ornette Coleman. Mix that in a big pot together with Balkan and New Orleans influences with elements from Afro, Avantgarde og Jazz. Serve this 'dish' hot together with these 5 excellent musicians, then you'll get a blend which approximately shows what this band will deliver. 
Because this is not an ordinary brass-band, and not a traditional repertoire. This is an orchestra which consists of five individualists who, without any compromizes, avoids all concepts or conventions by using several genres as their musical platform. This meltingpot of different music cultures, performed by some of the Nordic countries leading young jazz musicians, makes PASBORG's ODESSA 5 a live experience above the ordinary!
VIDEO: