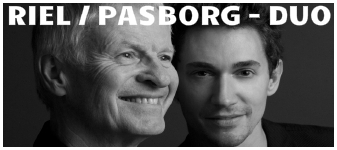 STEFAN PASBORG: drums / percussion
ALEX RIEL: drums / percussion
Stefan Pasborg was only 3 when he got his first snare drum from his godfather, who happened to be no other than leading Danish jazz drummer Alex Riel.
Representing two generations of modern drumming, Stefan and Alex chose to pay tribute to some of the greats from earlier generations: Gene Krupa, Big Sid Catlett and Zutty Singleton, who's way of playing never cease to amaze and inspire.
This meeting between Pasborg and Riel becomes interesting not only from a personal perspective but certainly from a musical perspective as well. It's a fascinating and surprising experience to see and hear the amazingly powerful drive of the young meet the laid-back energy of the older and experienced. And yet there's this obvious connection between them .. a mutual understanding of where they come from musically and personally, that makes their common output seem so "together" and fills it with a lot of humour and warmth.
VIDEO: